Despite the growing popularity of independent releases and mixtapes that sound more like albums, having a solid major label debut is still seen as the crowning achievement in a rapper's career by many observers. If
you've
built a fan base independently, do you use the exact same formula that brought you there, or do you use your
new found
label-backing and try something new? Action Bronson is the prime example of being at this juncture. The chef-turned-emcee has garnered critical acclaim with independent albums, mixtapes, an an EP well before his major label debut
Mr. Wonderful
was even conceived. He faced the challenge of simultaneously appeasing both his diehard fans and label suits/potential new fans. Going too far in any direction could result in a whack debut. Fortunately, Action Bronson made it work. The Queens native managed to stay true to his roots and personality while trying some new things that resulted in good singles.
Bronsolino has always rapped over unorthodox samples and continues the trend on Brand New Car that sees Mark Ronson smartly flip Zanzibar by Billy Joel. As usual, this perfectly suits Action Bronson's stream of conscious flow. He further goes back to his well of success when he links up with super producer and long time collaborator Statik Selektah for The Rising. Everything about this track just sounds triumphant from the keys and vocal samples to the horns and bombastic flow, which are respective trademarks of Statik and Bronson. The latter's cousin Big Body Bes makes an appearance on the end of the song to talk shit, which is another staple of Action Bronson's work. Keeping it all in the family always proves hilarious in this case.
At this point in the album, Bronson veers off of the beaten path and experiments a little more with his sound.
Terry
contains his usual wacky adventures in the lyrics but the real focus is the lush and luxurious beat crafted by
The Alchemist
.
Actin Crazy
took awhile for me to get into because I'm not a huge fan of
40
's beats and this one in particular
doesn't
seem to fit in with the rest of the album. However Bronson's witty lyrics and food references reeled me in eventually. Falconry is straight NYC grime, feels like it could've came out in '93. I've been quoting it for weeks and The Alchemist once again creates a musical playground for Bronsolino and guests Meyhem Lauren and Big Body Bes. THUG LOVE STORY 2017 is a man-on-the-street interlude of sorts that sets up City Boy Blues which lives up to its name.
This
88-Keys
/
Party Supplies
produced joint is the biggest departure musically for Action Bronson, as he
doesn't
rap at all but instead sings the blues about a woman doing him wrong. Normally I'd be dismayed about a rapper singing about heartbreak but Bronson does it right on this track. Party Supplies shows up to produce "A Light in the Addict" which once again has humorous lyrics over stupendous instrumentation.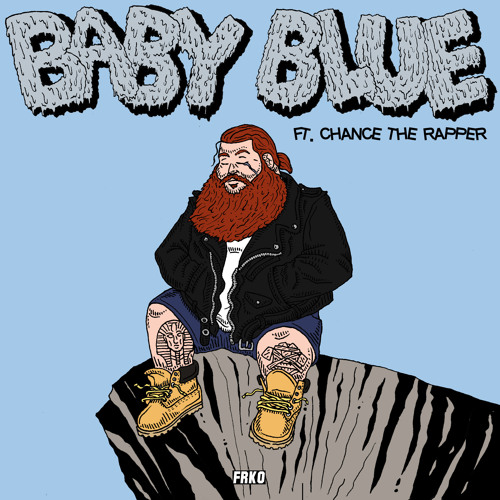 Baby Blue has more lyrics that derive from a scorned relationship but this time combines Bronson's rapping/singing with a Mark Ronson beat that is reminiscent of the singer/songwriter era of the 70's. Think Karen Carpenter almost. Chance The Rapper comes and steals the show with a hilariously spiteful verse. Only In America has been my favorite song on the album since it came out. Party Supplies samples some German guitar riffs that pair with Bronsolino's (sometimes alliterative) lyrical acrobatics excellently. His second verse serves as a call to arms of sorts for NY/East Coast hip hop. I love the conviction. It's vintage Action Bronson mixed with his new commitment to the instrumental side of things.
Galactic Love has Bronson spitting over a jazzy lounge inspired beat (by The Alchemist) with a slinky baseline. It's intercut with a phone call between him and his mom. The Passage (Live in Prague) isn't actually a live song but is just engineered to sound like it is. It does, however, serve as a passage to the the final song and album's first single (which debuted last year.) Easy Rider is inspired by the 1969 movie of the same name and feels like a motorcycle ride through the desert. Party Supplies does it again, creating a flavorful musical backdrop for Action Bronson's lyrical escapades (these are more storytelling than others.) This one features another foreign song sampled and some of the most savory guitar licks you'll hear all year, along with an underrated bassline.


Here's the thing. On one hand, Mr. Wonderful is a departure from Action Bronson's previous projects. You knew he wasn't going to be able to rhyme over 80's pop hits from Phil Collins to Lisa Lisa & the Cult Jam like he did before. Not only would that cost a fortune in sample clearances, but it wouldn't show any actual growth as an artist. Instead, Bronson chooses more extravagant and layered production than he did on his mixtapes and it pays off big time. He managed to do this and still not lose sight of who he is as an artist. He got to try new things while still maintaining his funny ass personality and lyrical stylings he cultivated on all previous projects. Big Body Bes, Meyhem Lauren, and Chance the Rapper make appearances like they've done before and he was laced with beats by previous collaborators in The Alchemist, Statik Selektah, and Party Supplies (Harry Fraud is surprisingly absent from this album.) Adding Mark Ronson, 88-Keys, and even 40 only helped the proceedings. It's like moving into a more modern and bigger house, only you keep your personal style on the interior and manage to combine all of your old friends with a few of your new neighbors. That's what Action Bronson did on Mr. Wonderful. On a more abstract note, this album's essence is like an 80's action movie mixed with the finest margherita pizza on the East Coast mixed with "Summer in the City" by The Lovin' Spoonful. At 13 tracks total (11 songs and 2 interludes) I just wish it was longer. I'm used to the sprawling tracklists of his mixtapes like the Blue Chips series (this might not be possible on a major label debut, possibly because of the aforementioned sample clearances.) But I can definitely appreciate Action Bronson's musical ambition and ultimate growth that definitely resulted in a wonderful ass debut album and one of the best of the year.