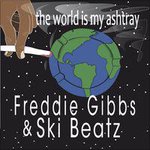 Freddie Gibbs returns to the mic with a new track, World is My Ashtray.
On this
Ski Beatz
production Gibbs talks his sh*t on how he's better than your favorite rapper. He's probably right if we're being honest. He also talks his humble beginnings about the come up with record labels and his growth as an artist. I love the boom bap percussion but it's the electric guitar that gives it a live feel. You can buy the song on
iTunes
or stream World is My Ashtray after the break.