Whoa it's Valentine's Day/Single's awareness day and we finally have a tangible version of the new Kanye West project. Reviewing music is always a real process for me. This time I consulted Niles P on his opinions before listening for myself. I got out of church, poured a glass of Tres Picos Garnacha and put on my new Sony headphones to ensure the listening experience reaches it's peak. I pressed play for track one and was not expecting to head back to the sanctuary.
This album is actually a Gospel album

— KANYE WEST (@kanyewest) January 27, 2016
Ultralight Beam
begins with some kids playing church then harmonies from
Kirk Franklin
and
God's Property
.
The-Dream
and
Kelly Price
lays down nice vocals accompanying the choir well.
Chance the Rapper
compliments the end of the song with some melodies backed by the gospel group.
Donnie Trumpet
also plays his horn on this track too. This is Chance's only feature but he's credited throughout the album on later cuts as well.
Swizz Beats
and
Rick Rubin
are also credited on the initial track. Kanye puts his best foot forward with this one. This feels like it could be a deleted track from
My Beautiful Dark Twisted Fantasy
. Unfortunately it doesn't retain this wave.
Father Stretch My Hands Pt. 1
and
Pt. 2
follow up. The album sounds like a few songs and the remixes to each song. I've always respected Kanye because he's never been afraid to take chances away from his signature sound. Sometimes it hits, other times you get
Yeezus,
but I enjoyed the outcome this time. This is the first time Yeezy really tackled Drill Music which surprises me with his Chicago roots. Pt. 2 features
Desiigner
. When I first heard the man responsible for
Panda
I actually thought it was Future Hendrix but it was not. I hate to put him in a box but that's really as honest as it gets. Dude makes a serious impact on the entire album though.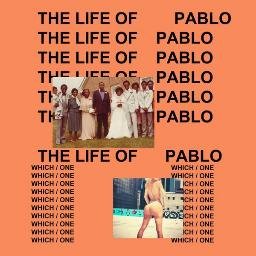 Famous
heads back to a more braggadocios and misogynistic Kanye.
Rihanna
appears personifying Fame and this is Kanye's rude response. While
Swizz Beatz
talks his stuff, Kanye brags about how he made Taylor Swift famous. Perhaps rude but it's definite possibly argumentative. Mr. West proves yet again he's the sample king this time using the ever popular
Sister Nancy
's
Bam-Bam
and what's turning into his favorite
Do What You Gotta Do
via
Nina Simone
. TLOP had an interesting set of features including
Young Thug
,
El Debarge
,
The Weeknd
and more. My favorites came courtesy of
Chris Brown
and
Kid Cudi
on
Waves
. I also enjoyed
30 Hours
which features the talents of
Andre 3000
. Unfortunately, we only got background vocals and not a verse from the legendary ATLien.
Listening to the new Kanye makes me feel like a kid in the choir again back when we used to get in trouble for singing secular music during rehearsal. I only said "wtf is wrong with him" once. I think that's impressive in its own right.
The Life of Pablo
is really just a collection of songs but not an entire project. He had more help on this album than he ever had in any of his previous work probably why he couldn't figure out a name to this album. There's pros and cons to this. The con to that is that you can really tell what songs were really Kanye influenced and what weren't. Some of these were cohesive and worked well while some really had nothing to do with others. The preceding singles,
No More Parties in LA
featuring
Kendrick Lamar
,
Facts
, and
Real Friends
featuring
Ty Dolla $ign
were nice and they weren't released too soon to the point where we would hate them by the time they came out. They still retain the replay value and don't have what I call the Cruel Summer Effect (i.e Mercy, Clique, New God Flow etc). The Life of Pablo is a nice collection of music but I wouldn't call it a project. Lots of the songs were a remix to each other so it became a little redundant. I was also surprised that
All Day
(you'll see more of that next week) and
Only One
with
Paul McCartney
didn't make the cut. TLOP gets
3.7 on Ramsey's Rating Scale.