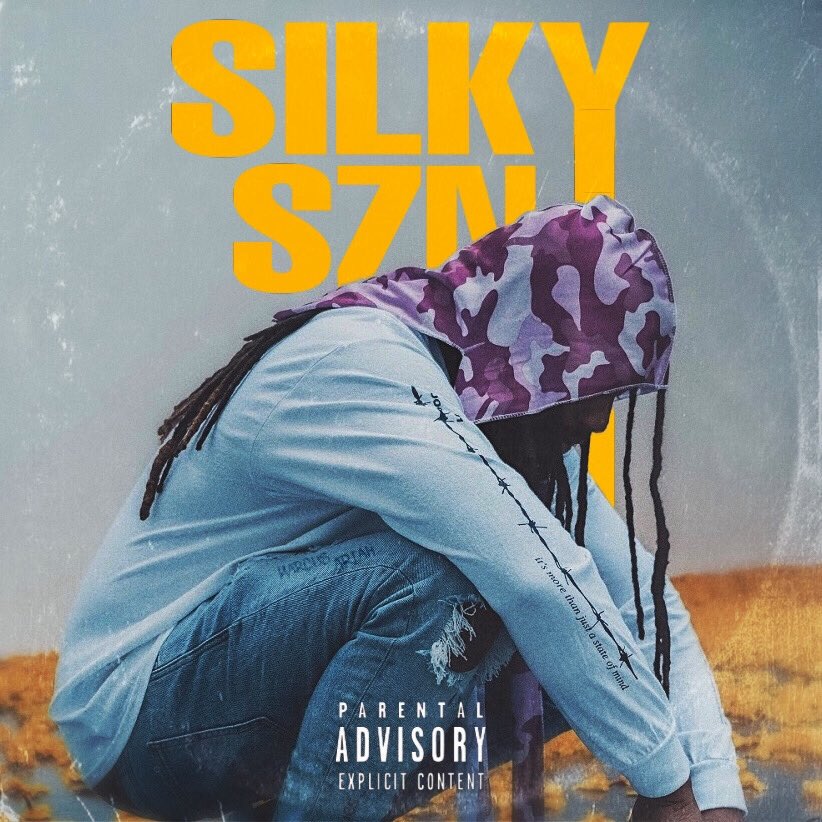 I've never been this out of shape in my life. Last time I was home, I caught my father trying on blazers in my old closet. I obviously asked him what he was doing. Since he retired he has more time to workout and lost about 30 pounds in the last year. He smiled and replied "I've never been able to wear slim fit and we about the same size now huh?" At that point I immediately knew it was time to get back to it.
These days my gym sessions have been to one project and you might have guessed by now which one.
SilkySZN
by
Marcus Ariah
is finally out. We got into detail during out interview on A-Side B-Side Podcast. Look out for that coming next week but for now, let's get to this album.
Get in the car before you press play. This album was made for it. When I talked to the Brick City spitter, he explained that the vibe they were going for was a long conversation in the whip with the squad. We'll get into that later. The first voice you hear is
DJ 1up
. He sets the tone and to be honest is a fire hype man as the beat fades in.
Stars of the Roof
kicks things off on a high note. If you're in the car you're speeding, if you're at the gym you're definitely going to go harder. That's just what this song does. Just like his last LP,
Making A Man
, we can expect his signature mix of bangers, vulnerability, soul, and street vibes.
I may have over thought it but track two,
Feminine
teeter-totters the line between the sexes and being sensitivity. Men aren't supposed to operate the same. That's what society says right? The best part is the response from the ladies in the skit at the end. I have no words you just have to listen yourself. To keep the ladies off his back he follows this song up with Find Peace. Melodically, Marcus is in his bag here. I like the mix too. It begins with a dope a capella harmony and the beat comes in. Find Peace is kind of a love song. He explains his experience in his relationship and how he wants to move proper because of the gem his girl is. This is incredibly vulnerable. It's important that he sang it himself rather than put a singer on the hook. Some messages just come better from the source.
Outstanding
with
Smoove Papito
follows up. I really admire how many bars Marcus gets out before having to breathe. The flow is effortless and he still delivers a melody rather than a more monotonous tone. The same could be said for Smoove Papito. No hook and a fire feature. I have to hear this at a function soon. The backseat skit after the track really makes sense when it comes to the album. The Goodfellas crew talk about how versatile of an artist he is and how many different types of songs he makes in one body of work. They're right, there really is something for everybody.
Let's move forward a couple of tracks to the most important track of this album,
Ghetto Love Song
. It's a story we've heard before but not quite like this. This is the Paid in Full analogy. A lot of bars with no hook is the best kind of rap there is in my opinion.
"Man I get tired of hearing everyone passing
I love the hood but this ain't everlasting
I love the hood but this sh*t hate when you captain
I know I'm good but this aint for the caption
And if I leave the game ace would they still love me
I wish Mitch had that mentality faster"
This is the best pocket of the album. I really enjoyed
Growing Pains
which features
Elcyna
. The sample of Find Time by SWV is slick. Marcus is really introspective when it comes to relationships and the women in his life. This song he talks about his girl, his mother, and even their mutually relationship. Rap and R&B were born to be together. This is a song I could have imagined to hear on 98.7 Kiss FM growing up. It's nice to hear Elcyna back in the fold. I hope we get more from her soon but this will hold me over.
One Car
is probably the culmination of the entire album. If you listened to this one by itself (you're not going to do this) you'd have the synopsis of the album.
Idontquit
is another song that had me going extra hard in the gym and on the track recently. With the exception of
Popout
;
Rndd
,
Confessions
and even the lead single
Goat Talk
it's more depth and introduction to Marcus as a man and as an artist. It's a great way to close out an album.
I was once critical about how some of his songs repeat similar melodies as each other. That's not as much a bad thing as I previously thought. It's not that the hook and verses sound the same as each other. Most songs don't have a hook so it's not a annoying catchy feeling while listening. You can listen to the real shit while having a bop to dance to. It's the perfect blend of lyrics and entertainment. What can I say, he bathes in milk and dresses in silk. Get SilkySZN everywhere you listen to music. You can also listen to the album below via Apple Music. Look out for our interview coming very soon.