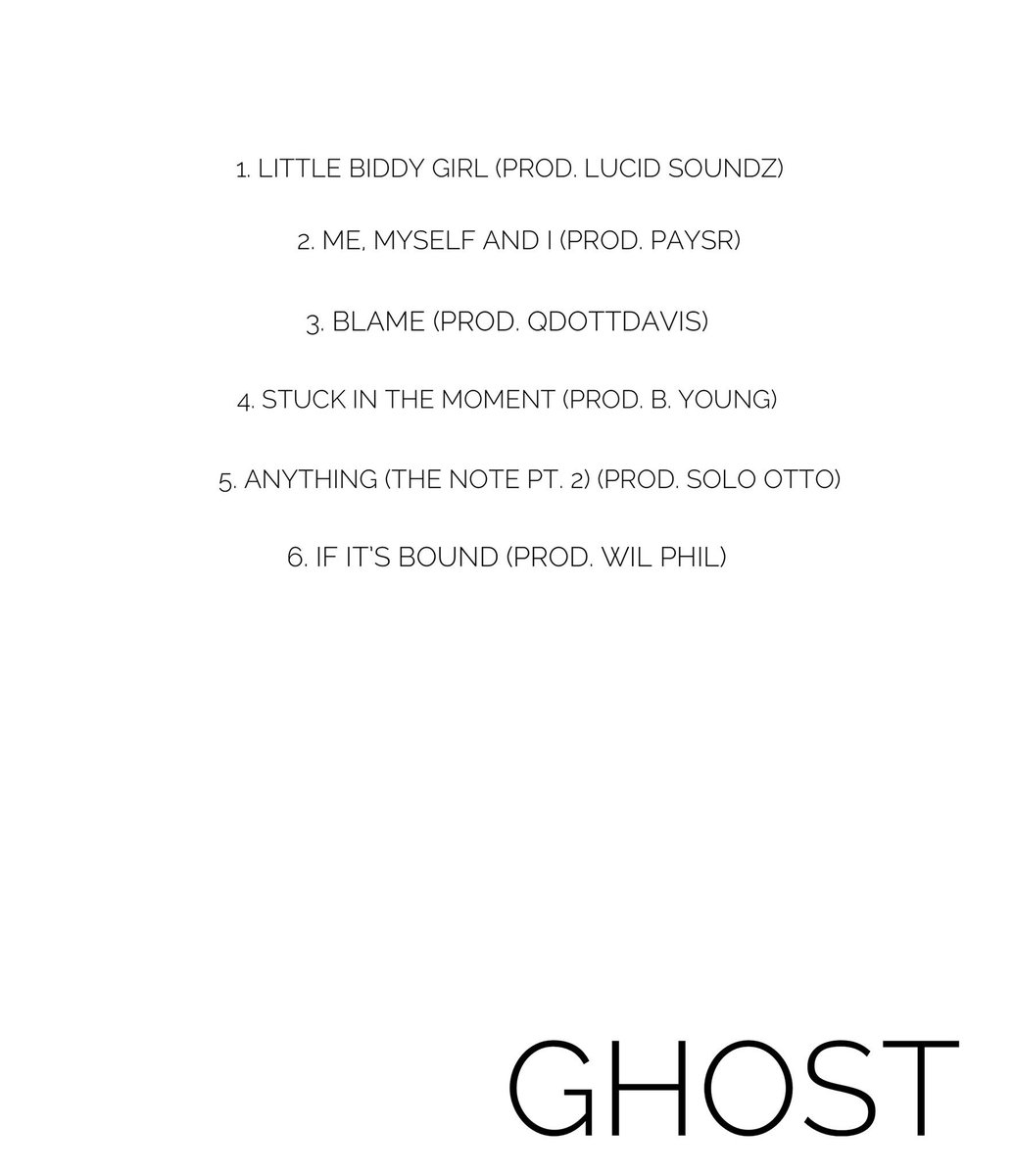 February 9th, Sis performed at our R&B and Poetry Night,
FEELSLIKERNB
in New Brunswick. She didn't perform much of her own original music and none of her new stuff. She is big on covers so it was nice hearing her perform the
Erykah Badu
classic,
Tyrone
. If you follow her on social media you'll see what she's listening to and mashing up. I think she is perfect at acoustic guitar ballads. We'll talk about it more later. It left me curious to what she had on tuck because I knew she was in the studio preparing this EP. I was especially interested to see where she was headed musically. Her debut project, Girl #3 was an experiment in Sis's personal life trying music, even if it was a long time plan in the works. Which takes us to now, GHOST EP is what's in our headphones today. Let's get to it.
Avoiding sophomore slump is the think that makes or breaks new artists. Girl #3 is as good of a debut EP that any R&B listener could ask for.
Little Biddy Girl
is a wonderful introduction track to a project. It's so introspective, good momentum builder. I really enjoy she's taking more chances instead of kind of navigating us through the verses and hooks.
"And my eyes, weren't big enough to see the things they see. And my heart still isn't big enough to feel the things it feels."
If you're listening while reading it's at this point we really see her minister this song to us. The riffs at the aforementioned lyrics is the very moment we feel what she's singing. You can tell she really believes what she's saying which is so important. Sis sets the tone in a little more cynical but serious way.
Me, Myself, and I
does the same. It shows off her range from tenor to alto to mezzo soprano throughout. She's seasoned and dablles throughout the spectrum vocally. There was a moment I though I was listening to Teyana Taylor when
Blame
comes on. Not so much from her voice but a particular run sounded like something the G.O.O.D. music artist would sing. I think it's the best produced track on here and sure enough
Qdottdavis
is behind the beat on this one.
Next up is the lead single,
Stuck in the Moment
. I can still listen to it even if I've been bumping it for months before the project. In fact I hope there's a video treatment for it. That's the one thing we haven't gotten from Sis to this point is a music video. We can use some visuals especially considering she has some talented friends in her back pocket. Stuck in the Moment has a music video in my head and I'm interested to see if the concept gets some love on our small screens.
In our
A-Side B-Side Interview
we talked about how she wanted to give people just a taste. I believe mystery serves Sis well which speaks to her songwriting prowess.
Anything
serves as the sequel to
The Note PT 1
from her previous project. Much like part one it's an acoustic ballad that I love hearing Sis on. I think that's a wonderful niche that could be if she ever wanted it to be. The story left off with her waking up to a Dear John on the other side of the bed where her lover should be laying. She described how she made plans for her day and probable life with him but he was gone. Part Two is a little less sad but still longing what could have been. She spends more time explaining to him what they could be rather than what they are currently.
Girl #3 is a young woman taking ownership and coming out of her shell. It's a statement saying, "I am important whether I'm the star or an extra and I won't be overlooked." Ghost feels like a girl already out but knows what she wants. If you miss out on her, then that's on you. Musically some songs sonically travel in a circle. The beginnings and ends kind of sound the same. Takes you somewhere then back to the original chord progression. I feel like when you listen to Ghost you'll find new things every time you re-listen. If I put it on repeat for months, stopped listening then came back to it a year later, I'd still find something different than my last listen. It's just about the same length as her debut as she stated she likes EPs better. Girl #3 was a women's empowerment project, and that's who she markets to. GHOST is clearly still directed towards the ladies, but it's probably easier on the ears for men to listen to than the previous. Not that her debut wasn't an easy listen, but the general R&B listener will like this better because it's more modern on a production tip. No matter how catchy and hard it was we won't be singing in the shower about the name of our p**sy on this one I promise. Ghost has less spectacle and more refinery. Don't get me wrong, Bite was expertly written and meant to be taken seriously. Still I must admit, when you hear the lyrics it grabs your attention. no matter if it has a much deeper meaning. It's an ear grabber on first listen. Especially considering it was her first single ever and usually the opening song of her live sets. It's first impression is loud and brash, but Little Biddy Girl has the same volume as Bite if that makes sense. It's a blinking eyes and raised eyebrows gif reaction that you have to settle into; however when you do you, it's easy see (and hear) that Sis is one of the most talented songstresses in NJ, period. GHOST EP is out everywhere you listen to music. You can press play and hear it for yourself below. I need you to feel this.