It's finally the second quarter of 2016. The weather is warming up, the sun is out just a little bit longer every day which usually means new music from heavy hitters and underground artists alike. I always try to give the people what they want and you guys seem to like that in list form. Below is a group of acts (in no particular order) that we here at WTM think you should keep an eye (or ear) out for the rest of the year.
MoRuf
- Two years, that was the last time we got a project out of the Irvington emcee.
Shades of Moo
was the last we've heard aside from that one week we were blessed with new material in
Try
and a video for
Neighborhood
. I always liked this guy since my man Jeff put me on. MoRuf is like the 90's raised music love child of
D'Angelo
and
Jill Scott
AND he can really spit. Moo was featured on
Mohdalsoul
's
Pisces Loops EP
, they dropped a video for a song titled
Viewtiful Fish
. Check that out below.
Ty Jackson
- I heard him for the first time at Tha Grey Matter's relaunch event that I love to rave about. Ever since, I couldn't write about this vocalist enough. Frankly speaking, the Franklin crooner packs a huge punch. We just heard him on his col laboratory effort
Boulevard Blues
with fellow
New Jeru Native
,
SOULFULL
(whom we'll hear more about later). I'm also excited to hear what he has cooking up as a solo artist. Not many R&B singers out here in a world where everyone wants to rap. The follow up to
EraNu
is something I'm excited for flat out. Listen to
Truth
with Soulfull after the break.
Siimba Liives Long
- I just caught this emcee shutting down Pianos in the lower east side a few weeks back. His set was electric and after the show we all followed him around like a cult waiting to see him eat fire. Not much is known about Siimba which gives him this mysterious factor that leaves fans begging for more. My sources tell me his debut album is finished and a release is imminent. From what I can tell this is something brewing for a long time and we all should heed and be prepared for. Thusfar he's given us three tracks in
Lost Souls
,
WIA
, and
Cocaine Bimbie
which you can watch below.
Khalil Jibran
- Khalil Jibran is one of the best emcees from around the way, don't argue with me. Khali is the full package: An Instrumentalist, a firery emcee, and he brings such energy to every performance. Newark's archangel has yet to give us a solo project since
RainOnASUNday
a few years back. The
Libre Brand
artist worked with a lot of underground talent from
TrapDan
,
Yoqueri
from
185
, and more. We've gotten a few videos and loosies but I think we're all ready for the concept project we know he's capable of. I know he has a lot of great stories and trials in his life that has probably hit the booth. Khalil is brings intensity like
Meek Mill
, knowledge like
Lupe Fiasco
, and incorporates different genres of music like
K. Dot
. A month back he dropped
Love is King
produced by
DJ Fade the Future
, listen to that after the break.
Rav P
- Passport Rav has seen a lot of success since I first heard him. There's a lot of growth going on for this young man. Making music with the likes of
Smoke Dza
and
Black Thought
is no small rodeo. The sky is the limit for him as an emcee AND a producer. It's been almost a year since
Slave Name Todd
released but he's been building more and more buzz as time goes on. You can actually check him as one of the headliners of a show at SOB's on the 27th. I already covered
Idle Hands
but you can stream that one again right here.
SOULFULL
- I think SOULFULL is top five emcees in the state of Jersey, underground or otherwise. If you had to ask him he doesn't even say he's the best in the Natives. He reserves that right to the GodBodyRapper
Khamal
(whom I'd love to hear more of soon). That says a lot about how humble of a guy SOULFULL is. You really have to watch out for him in what is gearing up to be a breakout year for this guy. When I sat down with him he talked to me about the projects he had coming out. The collab with
Ty Jack
was slated to go in a few weeks but we talked about his collab project with
Karma
,
I-95 & Wifi
as well as two more solo projects in the works. I won't spill too much but, you can catch the rest in my interview coming soon. What I can tell you is if we're lucky we'll get a sequel to
MTAG
as well as a big project in the fall that hits close to home. A few days ago he remixed
Grind
with
One Take
. Bump that after the break.
see.francis
- seefrancis is an act that I'm just now getting to know about. If we're being frank I only heard of him this year. Cosigns from my man Yasin and his
Podcast About Nothing interview
is where I got to know him more. We've covered a couple of his songs recently in
All I Wanted
and
Everything
. I'm just interested to see what is next for this guy. He's very talented and I just learned he produces as well as records as an artist. The follow up to
Fiat Lux EP
is going to be one to remember. Listen to All I Wanted with
Rado
below.
Audrey Rose
- The Long Branch Native took the mainstream world by storm last year. I was especially impressed with her project,
Chapter One: Guns and Roses
. I said it before I say it again, there aren't enough singers from around the way and it's nice to see the talent flourishing in the spotlight. She had a crazy rookie and sophomore year and I'm sure I'm not the only one looking forward to the follow up. She recently has been working with another singing talent from North Jersey,
Justin Love
. I had the pleasure of meeting him once via a mutual friend at his home studio in Bergen. To see them both collab was dope and they performed at Webster together last month. Listen to their track
Play
after the break.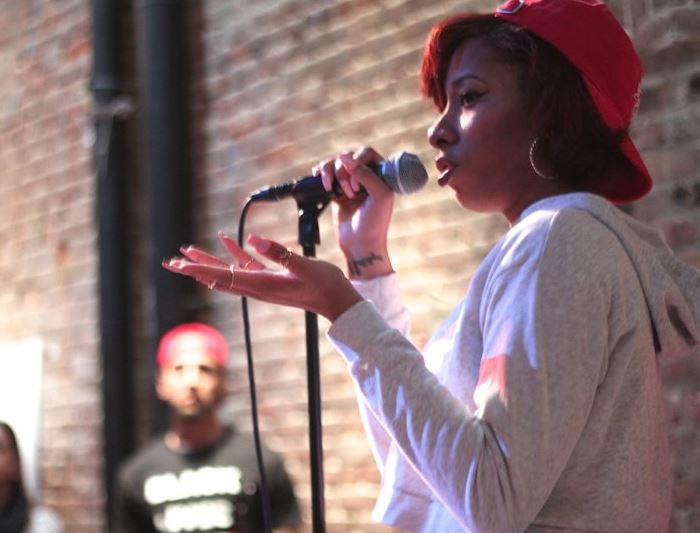 Kärma
- She's probably the most underrated act on this list. Super talented from an outright musical standpoint. She flat out knows how to create a song and make it worth the listen. We've gotten a few loosies recently with
DeathWish
and
Solstice
but I'm excited to hear a full length soon. I love the fact she isn't Hollywood and a pleasure to talk to in person (with or without a drink or hookah in hand). She's probably made music with your favorite around the way rapper or singer too. I already told you she's been cooking up and EP with frequent collaborator SOULFULL titled I-95 & Wifi. A couple weeks back I reviewed her project
Life After Love
. Upon listening I was begging for more. It was impressive considering it was a few years old. I'm pressed to find out how much she's grown. Listen to
Watchu Need
featuring
Kraze
below.
Joe College
- Rounding out our list is Joe College. For a while I'm sure I wasn't the only one wondering "Where the hell is Joe College?" It wasn't until recently when he reemerged on social media recreating his
instagram
. Usually when artists disappear without a trace they are working on something big and I haven't ruled that out. We haven't got a project from him since
Rugged but Smooth
. In his
interview
with us he spilled that he's finally ready for an LP, something tells me that he's close to being finished (probably should have asked him when I ran into him at the gym). He recently performed at Webster with
Desiigner
(the guy on
Panda
who sounds like
Future
but isn't Future) and he's been cooking up a new sound while balancing his work with
CivXSav
Apparel. Listen to
Make Money/Take Money
below.
Jersey is beginning to take a precedent and make a stamp on the tri-state and in the national scene. Rounding this out to ten acts was difficult but these are the cats who's proven they are a force to be reckoned with. That is not to take away from other acts making noise like the A1 crew, Sticks and Stones, the Remy Boys, or others I may have just missed out on (it happens I'm just a man). Otherwise I'm impressed by these guys and more which proves a testament that the New Jersey Culture scene is booming with talent and love.